One of the biggest misconceptions about plant-based diets is that they'll break the bank. If the only things you're purchasing are novelty items like Daiya Pizzas, Gardein Crispy Tenders and So Delicious Dairy Free Ice Cream, then it will cost you a pretty penny.
However, if you stick to more whole food staples (vegetables, beans, legumes, grains), you can oftentimes end up saving money than if you were to purchase animal products and by-products. It can also be healthier for you and for the planet by opting out of meat, dairy and egg products, even if it's just a few times a week.
Below, you will find ten easy vegan-friendly meals that are suitable for those on a budget and still delicious.
Healthy Mac and Cheese
"But I could never give up cheese" is probably one of the claims I hear most when people ask me about my transition to veganism. And I get it, because I once said this exact phrase (I can confidently say I don't miss it at all now). Most store-bought vegan cheeses are still lacking in their quality and are rather expensive, but this recipe features a homemade "cheese" sauce that tastes surprisingly cheesy, and is much better for you.
For this recipe, you will need
1 sweet potato
2 medium sized carrots
1 zucchini
½ of a sweet onion
½ cup of nutritional yeast (this can be found at health food stores, and increasingly in grocery stores)
1 tablespoon Dijon mustard
1 clove garlic
1 teaspoon salt
pepper, to taste
cayenne pepper (optional, to taste)
For full directions, click here.
Black Bean Burger
I'm a big fan of veggie burgers, but not always the price tag attached to them, or the processed ingredients in some store-bought brands. This recipe is packed with protein and flavour and will leave you feeling for.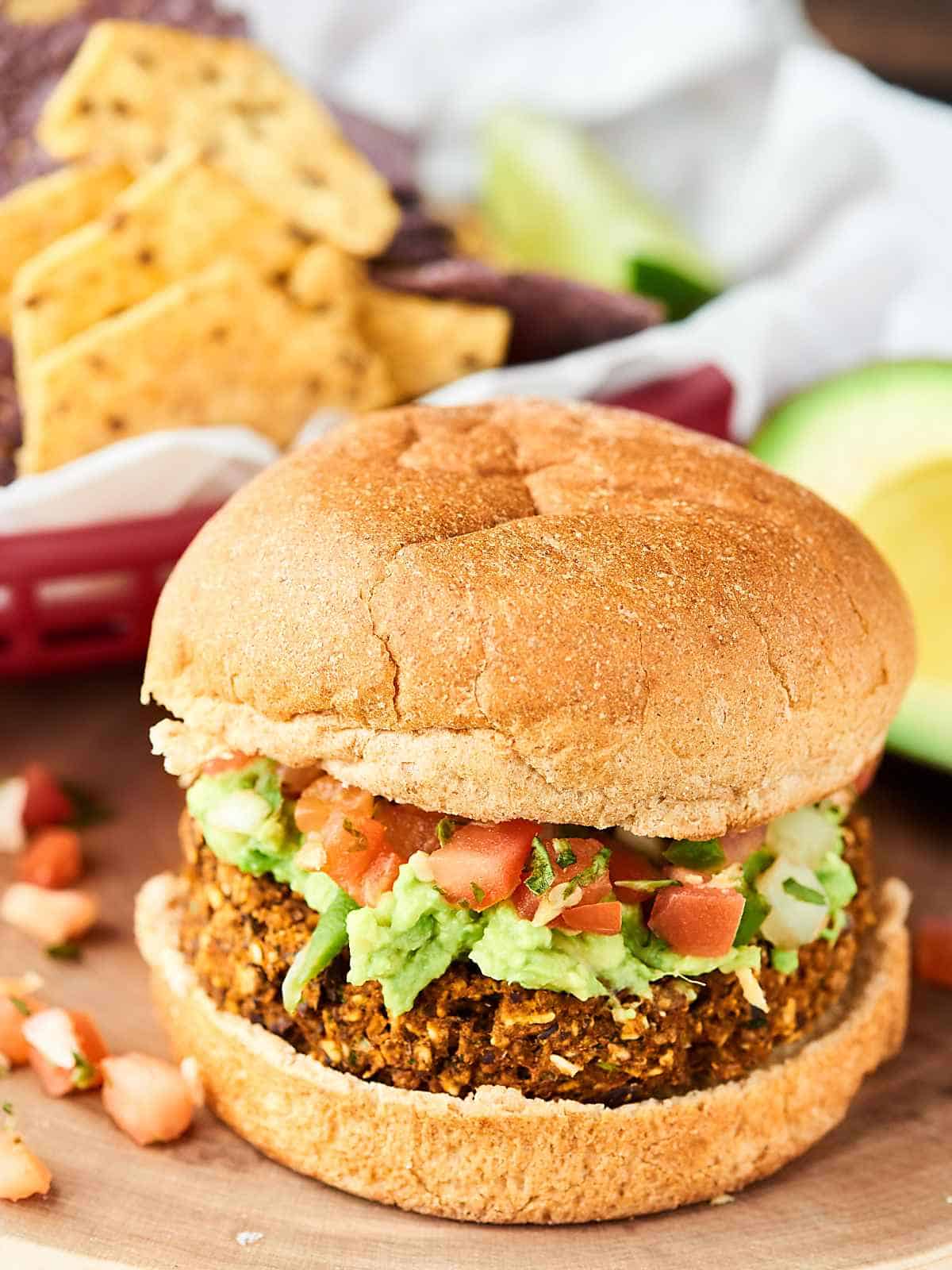 You will need:
1 tablespoon chia seeds
3 tablespoons water
½ green bell pepper
½ small red onion
2 cloves of garlic
¼ cup cilantro (I personally leave this out)
1 tablespoon chili powder
1 tablespoon cumin
1 teaspoon paprika
½-1 teaspoon salt
1 (15 oz) can black beans
¾ cup old fashioned oats
Find the full recipe here.
Peanut Butter Overnight Oats
Overnight oats make a great breakfast, especially if you're on the go. While there's endless variations on what ingredients to include, this one is one of my favourites.
Required ingredients:
½ cup unsweetened almond milk (or other plant-based milk)
¾ tablespoon chia seeds
2 tablespoons natural peanut butter or almond butter
1 tablespoon maple syrup
½ cup rolled oats
Find the full recipe here.
Quinoa-Stuffed Peppers
Stuffed peppers are easy to make and are a filling lunch or dinner. This recipe calls for warm spices and black beans which are full of protein.
You'll need:
Olive oil
1 small onion
2 cloves garlic
2 tablespoons chili powder
2 teaspoons cumin
2 teaspoons paprika
salt
pepper
1 can (15 oz) black beans
3 cups baby spinach
3 cups cooked quinoa
1 can (15 oz) diced tomatoes
¼ cup chopped fresh cilantro
4 bell peppers, halved lengthwise
Find the full recipe here.
Portobello Pizzas
I only recently started experimenting with Portobello mushrooms in recipes, and I have been missing out! I knew they made great steaks and burgers bases, but I did not know they could also make a great pizza base. These pack a great flavour and texture, and are easily customizable to your preference
For these, you will need:
3 large Portobello mushrooms, stems removed
olive oil
¼ teaspoon garlic powder
¼ teaspoon dried basil
¼ teaspoon dried oregano
1 cup pizza sauce
½ cup mixed veggies
Find the full recipe here.
Curried Chickpea Bowl with Garlicky Spinach
Not only is this recipe delicious, easy and nutritious, it also makes for easy meal prep throughout the week. This dish can be enjoyed warm or cold, making it even easier to take with you on-the-go!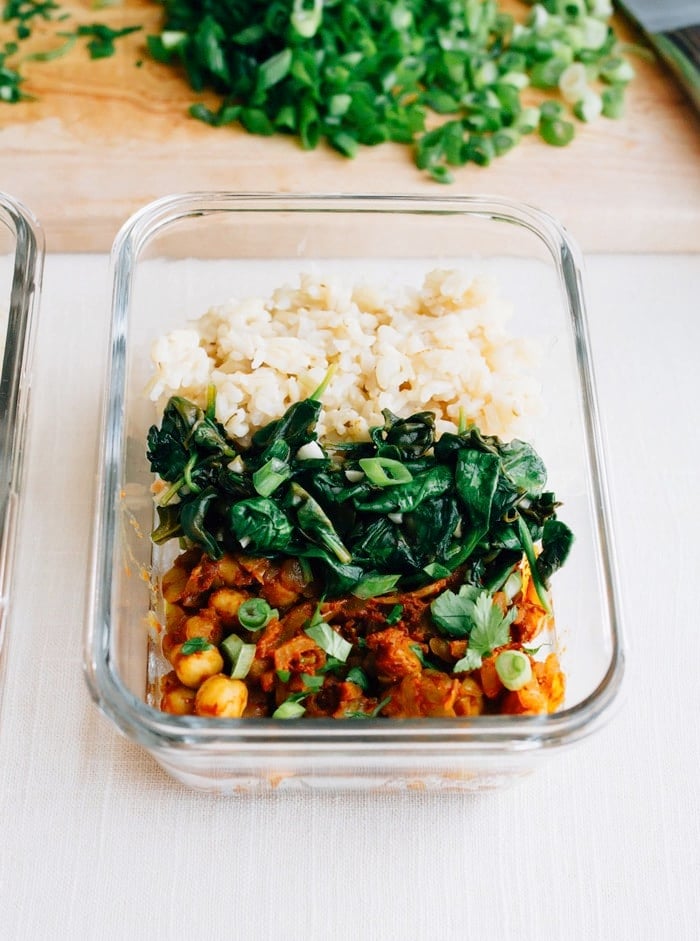 Ingredients required:
Garlicky Spinach
1 tsp avocado (or olive, canola etc) oil
3 cloves garlic
5 oz baby spinach
¼ teaspoon sea salt
½ lemon, juiced
Curried Chickpeas
2 teaspoons avocado (or olive, canola etc)
2 cloves garlic
1 large onion
1 can chickpeas (15 oz)
2 teaspoon curry
1 teaspoon cumin
½ teaspoon cinnamon
2 tablespoons tomato paste
3 tablespoons water
½ teaspoon sea salt
½ teaspoon pepper
cilantro (topping)
green onion (topping)
3 cups cooked brown or white rice
Get the full recipe here.
Sweet Potato and Bean Tacos
Who doesn't love a good taco? This is another recipe that's quick to throw together and cheap without sacrificing flavour or fullness. It's also easily customizable to garnish how you like and change up the dish.
You will need:
1 medium sweet potato
1 can of black or pinto beans
½ teaspoon cayenne pepper
1 teaspoon chili powder
2 teaspoons cumin
1 tablespoon nutritional yeast (optional)
your favourite taco toppings
Find the full recipe here.
Banana Pancakes
Believe it or not, you can make fluffy pancakes without the eggs or dairy. These pancakes are a great breakfast or brunch option with a delightful banana flavour.
You'll need the following ingredients:
1 ¼ cup flour
1 ½ ripe banana, mashed
2 teaspoon baking powder
¼ teaspoon salt
1 cup of non-dairy milk
1 tablespoon of vinegar (apple cider vinegar is a good choice)
2 tablespoons coconut oil
optional ½ teaspoon vanilla extract
Find the instructions here.
Potato and Leek Soup
Typically, potato and leek soups are made creamy with heavy cream and butter. This recipe is dairy free, but doesn't lose any of its thick, creamy texture. Warm and flavourful, it's a great comfort dish for lunch or dinner.
Ingredients:
1 tablespoon olive oil
500 g white potatoes (peeled, diced)
3 leeks
3 cloves of garlic
4 cups vegetable broth
½ head cauliflower
1 cup unsweetened almond (or other dairy alternative) milk
1 tablespon lemon juice (optional)
salt and pepper to taste
1 scallion (optional)
raw pumpkin seeds (optional)
Find the full recipe here.
10. Vegan Chili
A hearty chili is a perfect wintertime meal. Packed with quinoa, beans and veggies, it will leave you feeling full and is packed with protein. This recipe serves 10-12, so is great for if you're having company over, or want to freeze leftovers.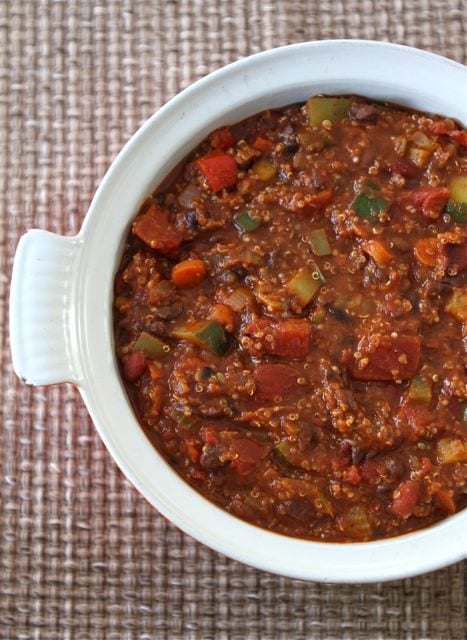 You will need:
½ cup quinoa
1 tablespoon olive oil
1 small onion
3 cloves garlic
1 jalapeno pepper
1 large carrot
2 celery stalks
1 green bell pepper
1 red bell pepper
1 medium zucchini
2 (15 oz) cans of black beans
1 (15 oz) can of kidney beans
3 (15 oz) cans of diced tomatoes
1 (15 oz) can tomato sauce
2-3 tablespoons chili powder
1 tablespoon ground cumin
salt and pepper to taste
Get the full recipe here.
So, there you have ten (of thousands and thousands of) vegan-friendly meals that will help you enjoy a filling meal without breaking the bank and without sacrificing flavour.